Following our last Metagogy discussion, I wanted to offer a survey of some of the ways we in the Department are using digital spaces, tools, and resources as part of our classrooms. Please reply to add activities missing from here, or to ask questions about the pedagogical reasons and logistical necessities involved with digital pedagogy.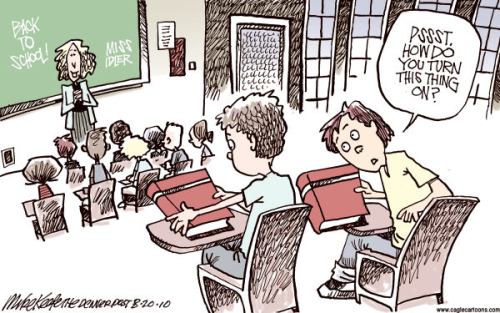 Collaborative Reading Lists
Paul Schacht uses Zotero for a "group library" so that students can share the research process with one another. This allows research to happen visibly outside the classroom as well as cross into it, especially if Zotero is loaded in class from time to time.
Public Course Blogs
A number of class blogs are up and running, including by Beth McCoy, Lytton Smith, and Steve West; all of these are hosted at our sunygeneseoenglish.org site. Jess Fenn offers a slightly different version, having students post to the Medieval Studies blog as a way to showcase work in a particular minor. More details on the exact processes are explained in the companion post on Public Course Blogs, but it's worth noting here that there are various ways to get students to talk among themselves or to talk to an imagined public audience; blog post requirements and assessment weightings can be more or less thorough, depending on their centrality to the course.
Course Websites
Paul Schacht takes blogs one step further: for both ENGL 340 and ENGL 458, the whole course exists on a webpage, designed not just for current enrolled students, but for future students to interact with past students. Part of the pedagogy here involves lessons about writing for a public audience, which of course involves thinking about the amount and types of information and sourcing to provide. One great example of some group work here.

Gandy Dancer
Gandy Dancer exists as SUNY-system-wide literary journal in print and online; the online space extends the work of Rachel Hall's ENGL426/488: Editing and Production Workshops I and II, as can be seen from the content of the most recent issue. Alongside the use of Submittable, Twitter feeds, and Facebook, Gandy Dancer suggests a way for students to produce course-related content that is public-facing and yet not an assignment requirement in the conventional sense.
Student-generated websites/webspaces
In collaboration with Joe Cope in History, Rob Doggett has created assignments within Irish Studies courses in which students structure and create a webspace on a particular topic of relevance to a course: reading evidence, making arguments, and deciding how to organize their ideas while working in small groups. While students can get further support from the Digital Media Lab, WordPress makes it very possible to do everything they need to quite simply.
Class Wiki
Drawing on a model put into practice by Rob Doggett, Paul Schacht, and Caroline Woidat for ENGL170 (the old ENGL203), Lytton Smith used wiki pages for a section of ENGL203 in which students collaborated on close-readings and contextualizations of literary texts; as the semester progressed, students began to synthesize close readings with readings of critical articles. In so doing, they helped teach each other about effective strategies for literary analysis while learning a tiny bit of html. This space is a subset of the wider English Dept-generated "Annotated Literary Texts" project, also used by other department, including Languages & Literatures.
Interdisciplinary Research Grants
Ken Cooper is collaborating on an Innovative Instruction Technology Grant entitled "Developing a Common Online Mapping Platform for Interdisciplinary, Place-Based Undergraduate Research"; collaborators include C. Garrity (Geography) – PI; K. Cooper (English); E. Argentieri (Library); K. Hannam (Biology), and J. Easterly (Library).
Research Papers
Both Ken Cooper and Lytton Smith will deliver digital humanities-oriented research papers at NEMLA this year (Toronto, April 30-May 3). Cooper's paper, about "bioregional archives" as exemplified by his Open Valley project, is on a panel called "D19: Pedagogical Approaches to Digital Nineteenth-century American Literature," Friday May 1st, 1.15p.m. (also featuring SUNY Geneseo's Liz Argentieri); Smith's paper, about the interaction between poetry and digital media, is on a a panel called "Spineless: Slippery Virtual Literature," Saturday, 1.30p.m.